2016-2017 was a whirlwind for me.
It started last November when I found out that I was pregnant after a year and a half of trying. It was so shocking because at that point we had given up, fairly confident that it wasn't going to happen. And that's when it usually happens. It was a huge dream come true after so long, and I could barely contain my happiness.
But then, I got super sick. The pregnancy made me so ill I couldn't get out of bed, and soon enough I couldn't eat or drink anything. I didn't talk about it at the time, but I ended up in the hospital a year ago. I had Hyperemesis Gravidarum (HG), which is relatively unknown but super common. It's basically extreme morning sickness that doesn't alleviate during the pregnancy. The whole nine months, I was taking a cocktail of anti-nausea medication just to survive. I even lost my job because I was so sick. It was really hard to stay motivated.
Before Son of Mine was born, only one thing kept me going, and it was the second dream that came true- I was a published author.
I know, that's old news at this point, but at that point in my life, I had accomplished both of my lifelong dreams at the same time! It was huge! I was living on a high of emotions.
So in December, my book was published! I got to hold it in my hands, sniff the pages, show it off to family and friends….and then what?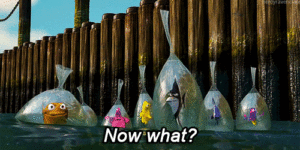 I had what I like to call a Tangled moment. When Rapunzel and Flynn are waiting for the lanterns and she's talking about what happens after living the dream she's been dreaming for so long.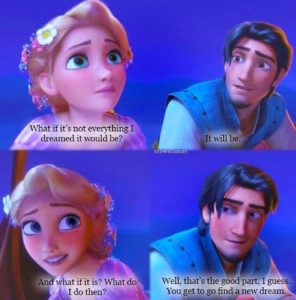 Once you experience that dream, you kind of hit a standstill as you figure out what to do next. Luckily, I had plenty to keep my occupied while I figured out what to do next. I'm very thankful for everything that happened this year because I planned, learned, and adjusted. Now, I'm ready for the next year.
I planned out what projects are most important to focus on, and as the year comes closer to an end, I'll schedule out a calendar so I can plan my time between the four. I learned how to write as a stay at home mom. Yes, I'm still learning as Son of Mine grows and becomes more mobile, so the next year will continue to be a learning experience, but now I know that I can do this. And I adjusted my goals to be smaller, taking things at a slower pace so that I don't overwhelm myself.
As it stands, next year I will have two more stories published. Two more books to prove what I've accomplished. Because writing is never finished. There are always more stories to tell.
I'm so thankful for this past year with all that I've accomplished and all that I've learned. Things work out, even when you don't expect them to, and even when it takes a year to get there. Even with all the bumps along the way, it truly has been a dream come true.
~Allie