Our blog tour kicked off on Monday with an interview of author B.C. Marine. Meet the next author, Matthew Dewar-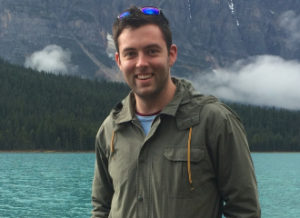 Matthew lives in beautiful Perth, Australia, where he makes the most of every day. He has many writing projects on the go, works as a physiotherapist and group fitness instructor, and somehow still manages to squeeze in a social life. He has published his own book, Nightmare Stories, and his short stories have been included in anthologies such as: From the Stories of Old, Between Heroes and Villains, Whispers in the Shadows, Seven Deadly Sins: Gluttony, and Seven Deadly Sins: Wrath.SaveSave


Q: What story did you write for the anthology?
A: Jack and the Storyteller.
Q: What inspired your retelling?

A: Fairy tale characters are generally very black and white as in either good or evil. When you think about Jack from Jack and the Beanstalk, he seems like a good character at first, but the more you consider his story, the more you realise that neither he nor the villain (the giant) are fully good or evil. I wanted to play on that idea as the centre point for a story where I mashed up other fairy tales.
Q: Oh, that sounds very interesting. What was the hardest part of writing it?
A: The hardest part is turning the craziness of all my ideas into a logical and comprehensible story. So that means many rewrites and revisions, and after a while my brain goes into meltdown.
Q: What short stories have you written for a JLA before?
A: The Female Warrior in From the Stories of Old, Lord Chimera in Between Heroes and Villains, and 43 Market Street in Whispers in the Shadows
Q: Wow! All three anthologies? How did this experience differ from your previous JLA stories?
A: Because I have participated in all previous JLAs, the process is getting much easier and smoother. We all work together really well.

Q: So, you've rewritten Mulan before, and now a mash up focusing on Jack and the Beanstalk. What other fairy tale would you like to rewrite?
A: I have a few ideas in mind for possible future anthologies. One idea I currently like is bringing Red Riding Hood into the 21st century and turning the Big Bad Wolf into a stalker.
Q: That's a new idea. I'd love to read it. Do you prefer a HEA?
A: I prefer a happily ever after or a bittersweet ending in a fairy tale. Sometimes a sad ending suits the story, and in that case I will enjoy it. But generally, the happier the better!
Q: That's true. The answer always varies depending on the story. Now, about you as a writer—how do you combat writer's block?
A: Usually I try and get outdoors to clear my head. I might take my dog for a run along the beach, or go for a hike in the forest, or something like that.
Q: Are your a "pantser" or "plotter"?
A: I'm a comfortable mixture of both. I like to plot out the main story points, but then I pants the zigzag journey to get there.

Q: Interesting how everyone's brain works differently. What's your favorite original fairy tale?
A: Growing up, the Elves and the Shoemaker was one of my favourite fairy tales. I loved thinking about living in a world where magic like that could be real.
Q: And your favorite adapted fairy tale?
A: Disney's Mulan is probably my favourite, mainly because of the awesome soundtrack!
Q: "Let's get down to business, to defeat the…
" *clears throat* Sorry, back to the interview. If you could meet one author, alive or dead, who would it be?
A: I would love to meet Brigid Kemmerer. It was her Elementals Series that really brought my passion for writing to the surface.
Q: Who is the biggest supporter of your writing?
A: My dog. He keeps me company while I write and always looks like he's interested to hear what I'm rambling on about.
Q: That's adorable. My dog likes to sit on my computer when I get too into my writing that I forget to pet her. What's the biggest obstacle to your writing?

A: Time. I am very time poor, so maximising my writing time is essential.

Q: Sometimes that's a good thing, though. It keeps you from procrastinating. Why are you so busy? What is your non-writer alter-ego?
A: I work as a physical therapist and I teach spin classes.
Q: What is your spirit animal? Something like a busy bee?
A: I took a quiz and it said my spirit animal is the turtle which apparently means I stick to my path in peace, determination, and serenity. I can live with that.
Q: Wow. That is not at all what I expected. Anyway, what other projects are you working on?
A: I'm currently working on two projects, both trilogies, and I have ideas for another trilogy and a few standalone novels. So much to write, and so little time! The writer's curse.
Q: Don't I know it! Finally, Oxford comma, yes or no?
A: Yes!
Good answer! Thanks for stopping by to talk!
You can check out Matthew's story Jack and the Storyteller when Of Legend and Lore is released on February 26th! In the meantime, follow him on Facebook and Twitter, and take a look at his website for more updates!
~Allie